By Stephen J. Fortune, www.fortuneaviation.com
All of us have most likely seen the glossy graphic laden twenty-year forecasts published every year or two by the OEMs. Traffic growth is sliced and diced and eventually distilled down to a demand forecast for new aircraft. This forecast is then further reduced to the headline grabber, such as "Mega Airframer predicts commercial fleet to double in next 20 years producing $XX trillions in aircraft sales". At first blush these prophecies appear self-serving and intended more for shareholder consumption than as a useful planning tool? To determine whether or not these numbers may portend an overly optimistic future, I decided to compare the current forecast versus actual performance over the last twenty years. The answer is somewhat surprising.
Airbus predicts the freighter fleet will grow from 1,600 units to almost 3,000 in 2031 (Boeing's forecast is similar). This represents an 82% increase in fleet size. A review of the freighter fleet data from 1993 to 2012 indicates a growth of 86%. Surprisingly, Airbus predicts a slower rate of growth than the previous 20 years. Several other key metrics also align closely with the historical record: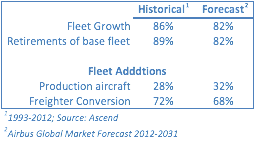 With regard to the breakdown by aircraft size (narrowbody, regional widebody & large widebody), the forecast continues a pattern begun in the 1990s – namely a reduction in the relative size of the narrowbody and large widebody fleets in favor of the regional widebodies. The narrowbody, a victim of improved surface transportation, has been and will be dominated by replacement of existing aircraft rather than growth. Alternatively, large widebody freighters are following the passenger trend away from hub and spoke dominated network to a more disbursed system. The latter requires smaller unit size hence the explosive growth in the regional widebody segment and modest increase for the large widebodies.
Before OEMs take a victory lap, one other factor that should be considered. The annual traffic growth rate in the past twenty years has been 6.5% in the 1990s and early 2000s declining to around 6% more recently. The Airbus 2012-2031 forecast assumes only a 4.9% annual increase in traffic growth, a significant decrease in traffic growth that indicates that the current OEM forecasts might be a little "rosy" after all.
Setting aside this lighthearted criticism, the OEMs do a tremendous job of predicting the future marketplace of a turbulent business operating in a rapidly changing global environment. I encourage you to review their forecasts for yourself:
Airbus Global Market Forecast 2012-2031
##
A globally recognized firm dedicated to providing its clients with timely and accurate guidance for profitable investments in commercial aircraft and related activities. In addition to Mr. Fortune's thirty years experience in commercial aviation, the company also draws upon a pool of highly seasoned specialists in finance, operations, maintenance and fleet planning to deliver outstanding results to customers. www.fortuneaviation.com

*The views and opinions expressed in the guest columns and monthly specials are those of the author and do not necessarily reflect the views of, nor should they be attributable to, SpeedNews or Penton Media