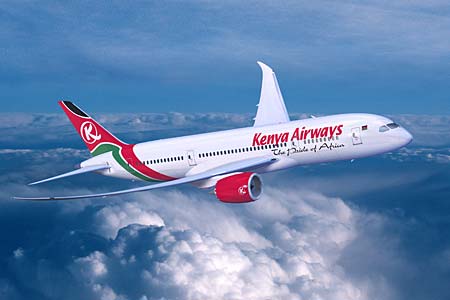 Kenya Airways has reaffirmed its order with Boeing for nine 787-8s, and optioned four to be exercised upon first delivery; the carrier was considering cancelling the order, which it placed in 2006, and acquiring A330-200s in their place. Originally scheduled for October 2010, first delivery is now slated for 4Q13.

"We are particularly pleased with Boeing, that despite the delay experienced in the 787 program they have committed to the timelines that we have now signed on," Kenya Airways Group Managing Director and Chief Executive Officer Dr. Titus Naikuni said. "The 787 Dreamliner fits well with our expansion strategy, giving us an opportunity to expand our markets beyond the current offering."

Naikuni noted that the carrier plans to fly out of every African Capital by 2013. It will use the 787-8s to replace ageing 767 aircraft as well as open up new long range routes.

"We are proud to be associated with Kenya Airways and glad that despite the delay this partnership is only bound to grow better as it is based on mutual respect and trust that we work together to ensure the airline's continued success," Boeing, Africa Sales Director Rob Faye said.